Packaging for delivery: know how to pick the best
Know more about the different types of packaging for delivery, and learn how to pick the best one for your business.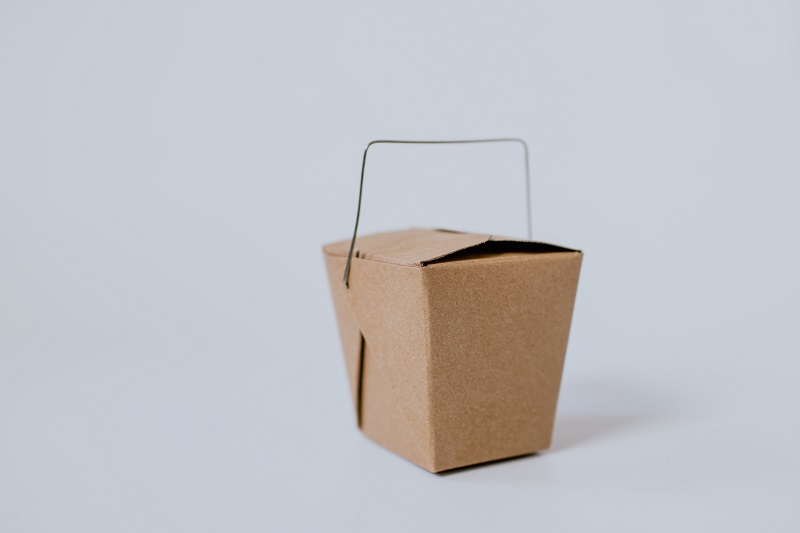 The importance of packaging for delivery
You've set up your e-commerce, and are ready to send delicious meals to your clients. However, have you stopped to think of the packaging for delivery you're using?
Many business neglect this matter and end choosing the wrong model. That is a common, but fatal, mistake, because the packaging is client's first contact with the final result of your work, even before the product itself.
The packaging is part of the purchase experience. Put yourself in your client's place: they're quite anxious for the order's arrival, but then receives it in a packaging that's not attractive, is visibly damaged or doesn't pack it correctly.
Now, visualize an anxious client that receives the order in a personalized, practical package that maintains the product's original characteristics. This first impression will surely impact the opinion they have about your company.
So, such as in a restaurant it's important to serve food in attractive dishes, with pretty tablecloth and uniformed waiters to convey an impression of organization and cleanliness, in delivery you must take care so that impression comes through how you present the product.
Packaging is much more than just how you wrap a product. It also serves as a way to spread the message about your brand. Custom packages with your e-commerce's logo or social media can help create a link with the client.
Besides, it can also include use instructions, such as, for example, directions of how to heat a frozen meal.
Basic requirements for packaging for delivery
The perfect packaging should follow four basic requirements:
1. Be adequate for the product
When thinking of packaging, don't look at what your competition is doing. Instead, turn to your own menu!
What are the types of food you offer in your restaurant? Different dishes require different packaging for delivery made with different types of materials, in varied shapes and forms.
To illustrate the attributes you should keep in mind, let's think of a delivery classic: burger with fries.
Size: a burger that's sent to customers in a package that's too big will probably arrive looking like a mess. On the other hand, a container that's too small will end up pressing the meal, making it less attractive.
Temperature: fries usually lose texture when put in Styrofoam containers. It's important that packages have an escape for steam, for products that might have their original features altered by heat. At the same time, they can't have too many openings, so the food won't get cold.
Format: you can't send a burger in the same type of package you'd send lasagna or a creamy soup. It has to be adequate to the shape of the food.
Considering these factors, analyze your menu to understand which packaging for delivery are ideal to pack as many dishes as possible, so that you won't need to buy too many different types packages. This translates into savings, because supplies usually give discounts to large scale orders.
2. Be easy to use
Avoid packages that are hard to open, or demand strength from the client. At the same time, since the product will go through a journey to arrive in its destiny, they can't be too "loose".
Plastic or paper bags should be firm enough to go through a couple of flights of stairs without breaking.
Take care, also, that packages allow a better keeping of leftovers. They should go to the freezer, the microwave or even the oven, depending of the food.
If possible they should also work as a plate. A pizza is even more delicious when the client knows they won't have to worry about the dishes later.
3. Be hygienic
Prefer packages that won't leak and won't allow contact between delivery person and the product.
The food must never touch the outer part of the package, which must also have a closing system that allows the food to be free of bugs, rain or dirt.
4. Be safe and sustainable
Take care so that the package is safe for the client, and that they won't be burned or cut when trying to open it. Also, the food should not escape if the client pushes too much.
At the same time, take care of the environment. More and more people, especially young people, prefer businesses that reduce the amount of trash produced. So avoid the exaggerated use of plastic and non-recyclable materials.
Types of materials for packages
Besides shapes and sizes, you must also pay close attention to the different types of materials available in the market.
Let's see the pros and cons of each one:
Paper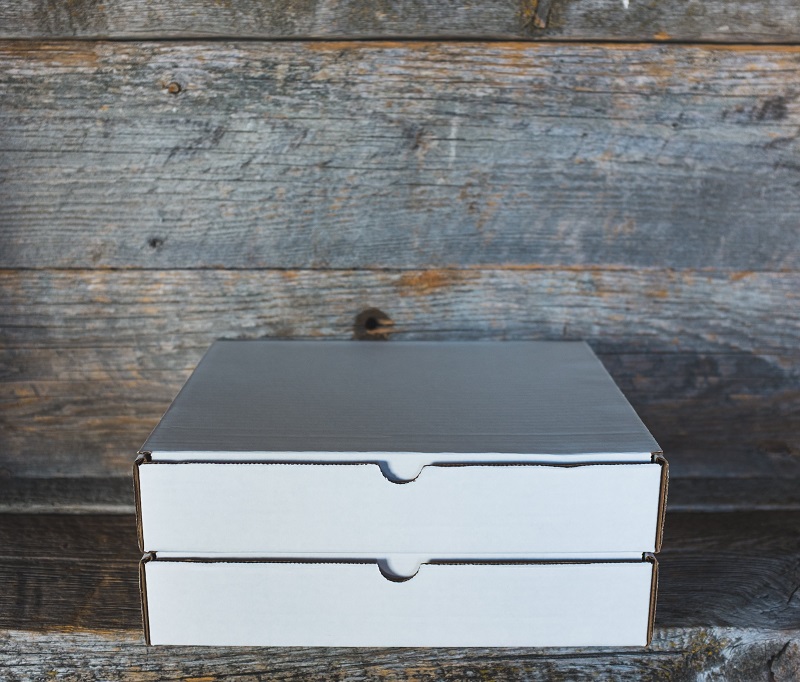 Packages in kraft paper are the big trend in this segment.
They preserve the temperature, can receive an impermeable layer and, usually, go with no problem to both freezer and microwaves. There are already options in the market with resin layer that will go to the conventional oven.
This type of package also counts with the advantage of being highly customizable. Besides enabling the printing of your logo and social networks, they allow different types of folding and closings, making the task of adapting the package for the product a lot easier.
Apart from the kraft option, there are also other paper packages you can use. Breads, cakes and sweets usually are sent in paper bags, while burgers can be enveloped to avoid from opening during transportation.
Corrugated Fiberboard
They may seem like the same thing, but aren't. Corrugated fiberboard is stronger than cardboard paper, and packaging for delivery made with this material usually receive two overlaid layers, and are perfect for heavy foods such as pizzas.
It's also possible to apply an extra layer of foil paper, which helps to keeping food's temperature. However, this is an option that doesn't usually go well with humidity, so it doesn't go to the freezer of fridge, and also can't go to the conventional oven.
Both corrugated fiberboard and kraft paper are recyclable and biodegradable, and easy to discard. However, they demand previous assembly.
Aluminium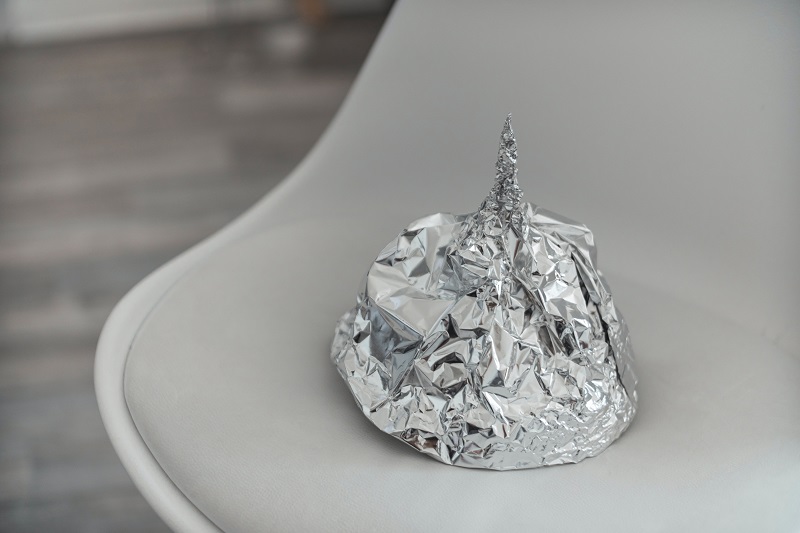 Aluminium packages are perfect for frozen foods, or lunch boxes that need to keep their temperature for longer periods of time.
They're not customizable, except for a paper lid in which you can print instrunctions of how to heat the food, for example. But don't forget to include that aluminium does not go to the microwave! It can, however, go to the conventional oven, without the paper lid.
Aluminium is a recyclable material, and the sheets are maleable and easily discarded. However, this characteristic also makes them easily deformable.
Plastic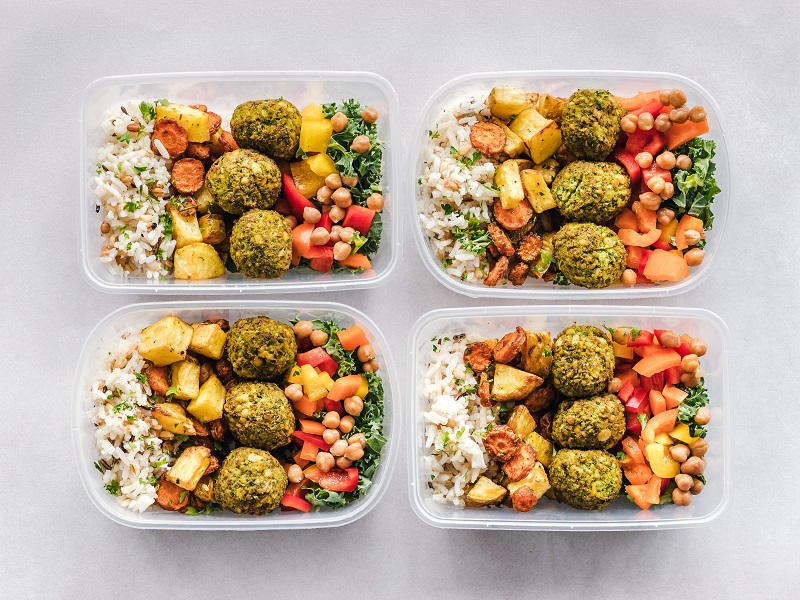 Environment's biggest villain! Many cities worldwide are developing laws that keep establishments from providing plastic packages and utensils, because this material is non-degradable and some types of plastic are also non-recyclable, such as:
Cellophane
Foam (EVA and Styrofoam)
Metallized packaging (such as those from chips)
Adhesive plastics
The use of plastic, however, is almost obligatory in some situations, such as Sushi boats, foods that need to be vacuum sealed and condiment sachets. Look out to keep the use of plastic restricted to the very minimum.
Highly customizable, plastic can also go to freezer and fridge, but not the oven, altought it might sometimes be used in the microwave.
Styrofoam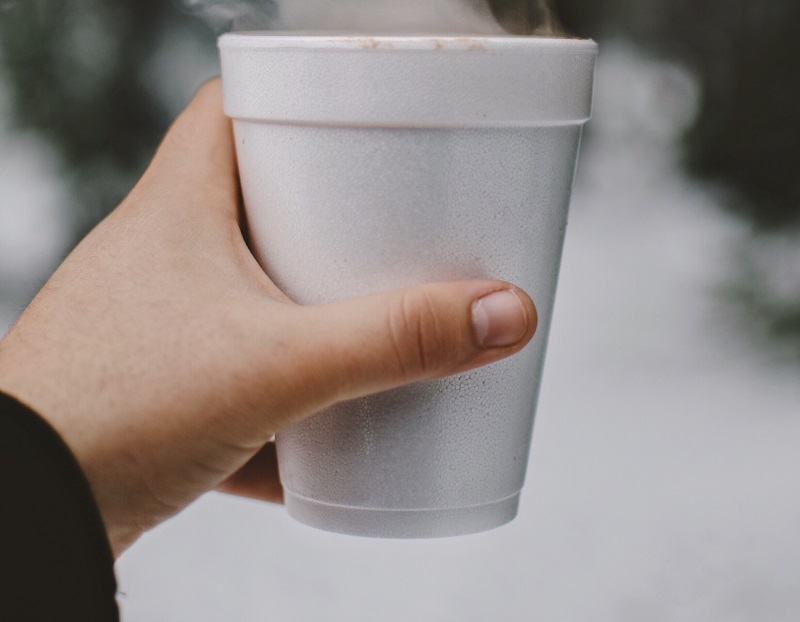 Styrofoam is highly pollutant, because it's no biodegradable nor recycable. However, it's the best material for delivering ice cream, because of how well it keeps cold temperatures.
Because it's relatively cheap, it's very common that restaurants use Styrofoam packages in their deliveries, but that's been changing with time.
Custom packaging for delivery
If you're interested in creating custom packaging for delivery for your business, pay attention to these three tips that will help keep your client satisfied.
Keep your packages from being out of date, in case you change your phone number, social media or even logo or business name.
The ideal moment to encourage the client to share the order in their social networks is as soon as the product arrives. How about including a custom hashtag in your package?
If your e-commerce is not a restaurant, pay attention to discretion! Drugstores, sex shops and other types of commerce call for extra discretion to avoid embarrassments. In these cases, the best thing to do is avoid calling attention, with discreet packages.
Outside of the food chain?
Packages are also very important for business that don't deal with food.
Have you ever stop to think how your packages are affecting the success of your business, be it a drug store, a pet store or even a clothing store? Every client likes to receive a pleasant surprise when the order arrives, no matter what segment.
When thinking of the packaging you'll use, you show the client that they're important to you, and how serious you are. It's a matter worth thinking about when starting your e-commerce.
No matter what product and package you'll use, Delivery365 is the best way to take them to their destination in an easy, fast, reliable way.
Look out for more tips on this true revolution in delivery!
---