24-hour delivery: see why this is a hot trend in e-commerce
An ever growing number of online stores is offering 24-hour delivery. Know more about this important distinction to raise sales.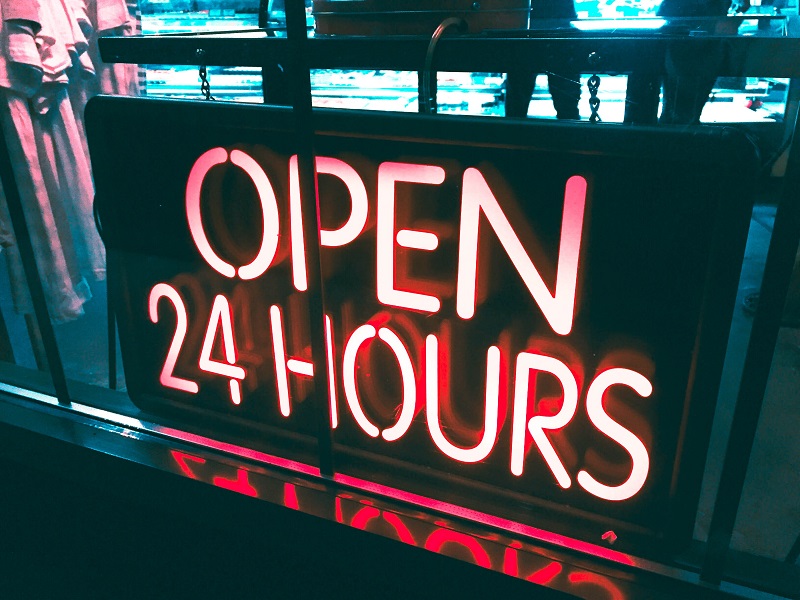 Why invest in 24-hour delivery?
The growth in delivery was already going steady all over the world. But, during the Coronavirus quarantine, we've seen many changes in this sector.
What was once seen as a convenience became a necessity. Among the many business that have been using deliveries as a way of winning new clients, some are actually of great help to customers, especially as leaving the house to shop has become a risk to health, or something particularly complicated.
The elderly, people with some kind of disability or parents that can't leave children alone. These are some of the types of customers that need fast delivery of a variety of items, any time of the day.
We also need to keep in mind that not everyone has the same schedule or routine . Many people work in night shifts, such as security guards, healthcare professionals, drivers and journalists. These groups are especially benefited by 24-hour delivery.
The needs to be satisfied by home delivery are varied, which requires different working hours.
The demand for late-night deliveries, for example, is getting bigger, and that can be a great differential to your e-commerce.
24-hour delivery is a trend to look out for
In some segments, working 24 hours is already common practice. Drugstores, convenience store and even some supermarkets already offer this to clients.
However, this type of retail finds some difficulties, such as a considerable decrease in client flow during nighttime, crime and even problems to manage a team that works in late night jobs.
That's why delivery fits like a glove, allowing that establishments operate with reduced teams, with no physical space for clients, making only deliveries in alterative hours.
We've separated some of the 24-hour delivery services you'll find in delivery platforms such as the Delivery365 app.
4 fastest-growing segments with 24-hour delivery
Here are some of the types of commerce that are benefiting a lot from 24-hour delivery.
Drugstores
It's impossible to predict when an emergency is going to happen at home. Be it a wound in the kitchen, a headache that comes out of nowhere, or even a shortage of diapers, there are many times we need something from the drugstore. And of course, these needs happen when we're completely unprepared, or in the worst times possible.
Indeed, who needs something from a drugstore is usually in a bad situation. Either they can't leave a sick person alone at home or, worse, they are the ones needing help. That's why using delivery services is more and more common in these establishments.
But that's not exactly news. Before delivery apps, you could call a drugstore and order something, then wait for the delivery, which usually happened in shifts. But now, drugstores can sell like so many other segments that are doing online business.
A segment with unique traits
Of course, selling medications demands some precautions that other types of stores don't. For example: ongoing sanitary regulations regarding the sale of prescription drugs and the keeping of these prescriptions, besides the many products that can't be sold over the counter in different regions.
To overcome these difficulties, a drugstore that works with delivery needs, above all else, organization. But that isn't news to employees of this sector, who are already used to safety procedures.
That's why, before starting to sell online, you should take two precautions. First, establish which products can be sold online, by looking up the ongoing sanitary regulations in your region. Then, when registering these products, don't forget to be as specific as possible about all the characteristics that can be of relevance, to avoid unnecessary returns.
And last, put yourself in your client's place. Understand that, in this type of commerce, consumers many times are in a delicate situation, and need attentive and fast delivery.
Groceries
Such as we sometimes need medications in the most adverse situations, the same thing also happens in the kitchen. Suddenly, in the middle of a cake recipe, you realize you're out of eggs, flour, or any other ingredient.
You can't always rush out of the house after what's missing. How about ordering a delivery, where you can also include some other extra items from your grocery list? This way, you order everything you need, without having to face lines in a supermarket.
But that's not all. If you have a grocery store, you can follow the example of many chains worldwide and delivery meat products, pre-packaged fruits and vegetables and all the manufacture goods your client might need.
The focus here can be on those small necessities that can ruin a meal. If your client has all the ingredients for a lasagna, but not enough cheese, that's where you come in. The baking powder for a cake, the ice cream that will be served with it, or even the cleaning products that won't let the dishes pile up in the sink.
With the increase in demand for grocery delivery, it might be interesting that one or more workers are ready to separate a client's order. Initially, these products come out of the shelves in your store, but you can also have someone in your stock ready to perform this task.
A booming service
This type of service usually serves nearby neighborhoods, but can be expanded to reach a growing number of people. It depends only of your availability.
Think of ways to speed up the process and guarantee client's satisfaction with a fast and efficient delivery. You do your part by separating all items according to the order.
As for delivery, you can let Delivery365 take care of it. Our platform counts with registered delivery men that can take your product straight to clients in no time, in a way that's exceedingly fast and efficient.
Maintenance
If you own a hardware store, you know that precision is key. This type of commerce usually works with clients that are not that well aware of what they need.
In these cases, the presence of someone who knows that product they need or service to be performed is important. It's hard to sell some of these things through delivery, but hardware stores can still benefit.
Products such as light bulbs, showers, brooms, cleaning and organization items, among others, can be bought online with no problem. However, it's important to always pay attention so that the product's description is as complete as possible.
This way, clients feel safe when buying. Whichever way, make yourself available to help, by offering a phone number or social media where they can ask questions.
A quick repair, be it on a home or store, doesn't make appointments. That's why 24-hour delivery for hardware store and more and more common, and are definitely here to stay.
Liquor and drinks
In big cities, it's common to see liquor store who deliver all through the night, even 24-hours a day.
This service, which has been spreading to smaller cities, is even stronger now during the Coronavirus quarantine, a period where the consumption of alcoholic beverages has grown, even with bars temporarily closed.
Don't make your client take risks leaving the house, at night, to purchase drinks, liquor and beverages. Offer this service, including in your menu snack options, tobacco items and other conveniences.
It's a type of delivery that attracts a very specific type of client that's also very faithful, and will surely repeat the purchase if they're satisfied with the speed and quality of your service.
Precautions to take
Reading the suggestions above, we can some characteristics in common related to these services.
First of all, the need to double check cares with hygiene. You need to make sure that it is present in every step of the delivery process, from packaging to the moment they arrive at a client's home.
By offering a service that works at night, depending of the place or segment, you might find some difficulties regarding your team. Invest in a staff that understands the needs of this type of work, and also regular training.
Be extra careful with product descriptions. Use, whenever possible, actual recent pictures to help customers make their choice.
To guarantee total success in your delivery, don't forget the importance of post-sale, giving the client the feeling of safety and trust they need to repeat the purchase. Sending out a flyer or a business card, with your social media accounts, is always a good idea.
Take care of your client's needs! Know more about Delivery365 and be always ready to make deliveries, any time, whatever your segment is.
---
[DD1]PLUG "não é só para…"
[DD2]LINK "growth in night work"